Swansea's prime location as the focus of South West Wales has just grown. Construction has started on the city's indoor arena, part of an initial phase of the £1 bn+ city centre regeneration and transformation.
The Swansea Central programme is an added incentive to investors not only in Swansea itself, but also the entire region. Parc Felindre is conveniently placed on Junction 46 of the M4 and just five miles north of Swansea Centre and its potential is boosted by this news.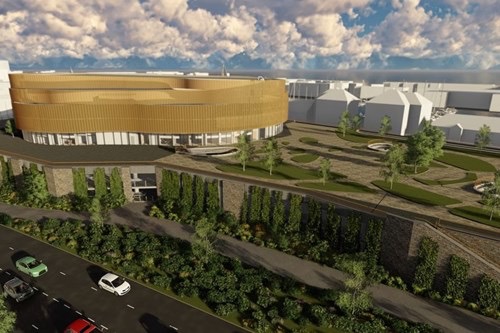 The arena is part of the council's £135m Swansea Central Phase One project. This includes
3,500 capacity multi-purpose arena*
new leisure and retail
1.1-acre coastal-themed park
apartments
almost 1,000 new car park spaces
landmark bridge for pedestrians and cyclists.
*The arena is being part funded by the £1.3bn Swansea Bay City Deal.
With state-of-the-art facilities for business conferences, entertainment and meeting rooms, the arena is also due to host conferences and events reflecting South West Wales' growth. The arena is already building regional interest which will benefit Parc Felindre.
This vibrant new attraction will build the profile of the City as a centre of world class entertainment, potentially attracting 230,000 visitors as 221 events are planned at the Arena each year.
Amanda Davies, Pobl Group Chief Executive, said:
"Redevelopment plans for Swansea including the indoor arena and a digital village which will create opportunities for local people to access new jobs, skills and world class entertainment. They will also combine with a number of high-quality housing schemes at sites including the Vetch, Orchard House and Swansea Central to boost the city centre's vibrancy."

Amanda Davies Pobl Group Chief Executive
Photo and cgi's attached courtesy of Ms Amanda Davies, Swansea Council.
InformaIion and statistics sourced with thanks to Wales Online, Swansea City Council, Exhibition News UK