Cairn Group are described as the 'Best in the Business'. They are confirmed as a preferred bidder for the Swansea Central Phase One hotel site, bringing salient experience and service reputation from across the UK, where they already operate 33 premium hotels. The hotel will be an additional asset to Swansea's business offer and a convenience for business visitors to Parc Felindre.
The scheme's landmark bridge was unveiled – a spectacular gold coloured interpretation of a striking swan figure. Designed by respected Swansea artist Marc Rees in collaboration with contemporary architect, ACME, the new broad bridge – up to 12m wide - will link the two halves of the expansive Swansea Central Phase One site.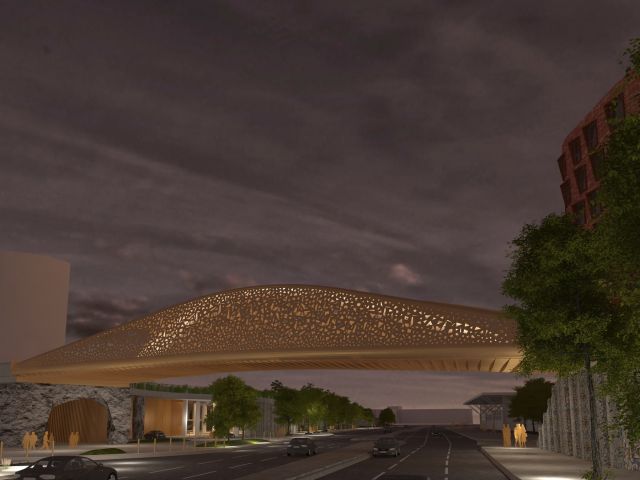 Swansea Central Phase One is a £135m Swansea transformation scheme due to open in the second half of next year. Driven by Swansea Council, it is a catalyst for business growth, regeneration of city infrastructure and employment development. It includes a 3,500-capacity indoor arena, new parkland, almost 1,000 new car parking spaces, commercial units and more than 30 homes. It is due to open in the second half of next year.
Funding assistance has come from the £1.3bn Swansea Bay City Deal - for the arena - and from the Welsh Government's Active Travel Fund for the bridge.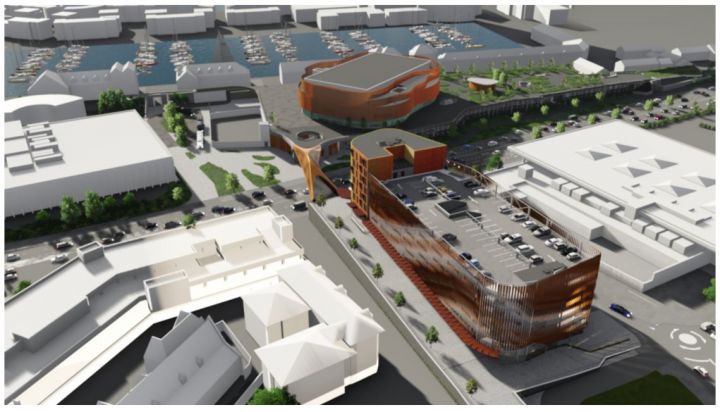 Swansea Council leader Rob Stewart said:
"This is another big day in this transformative project, part of our £1bn-plus rebuilding of the city centre, something the people of Swansea have wanted for a long time.

I'm delighted to welcome partners here for the latest major announcements and to update them on the exciting progress we've made since the start of main construction work in November.

I'm pleased to announce we have selected our preferred bidder for the new hotel site - Cairn Group are the best in the business in running top class hotels, including venues for big brands such as Hilton, IHG and Accor. This again demonstrates our promise to bring global brands to Swansea.

The bridge design by Marc Rees, created in collaboration with top rate architects ACME, will provide a dramatic, eye catching new gateway to Swansea. It's fun, outward looking and forward thinking.

Swansea Central Phase One will help us become one of the most exciting places in the UK to live, work, study and to enjoy quality free time."
From left: Swansea Council cabinet member for investment, regeneration and tourism Robert Francis-Davies, council joint interim deputy leader David Hopkins, council leader Rob Stewart, Gower AM Rebecca Evans, UK Government Minister for Wales David TC Davies, Neeraj Handa, of the Cairn Group, and council joint interim deputy leader Andrea Lewis on the Swansea Central Phase One site.
Key business involved includes development manager RivingtonHark and principal contractor Buckingham Group Contracting Ltd.
The new hotel will have 150 rooms and will overlook the arena and Marina. Designs of the new hotel will be released in the coming weeks.
Neeraj Handa, director of the Cairn Group, said:
"The opportunity in Swansea is huge.

The new arena alone is set to attract over 230,000 visitors a year to the city, from business visitors using the new conferencing facilities to holiday-makers taking in a show.

The major improvements across the city, teamed with the remarkable local beaches and attractions, will ensure Swansea becomes an unrivalled destination to visit in the UK, and the demand for quality hotel rooms will boost the current supply.

Added attractions will include a gym for hotel guests, alongside a public bar and restaurant, adding a new dimension to Swansea's evening offer."
From left: Friedrich Ludewig, of architects ACME, Swansea Council leader Rob Stewart and artist Marc Rees on the Swansea Central Phase One site.
Web links
Additinal Notes
Swansea Central
Swansea Central is a mixed-use development, being delivered by Swansea Council, located next to the LC leisure complex – Wales' biggest indoor waterpark – the National Waterfront Museum, Swansea Marina and the beachfront. The £135 million first phase of the development includes a striking 3,500-capacity, state-of-the-art live performance area and conference centre, with 960 parking spaces, a 150-room hotel, a 1.1 acre landscaped park, new homes, commercial units and a statement bridge that will significantly improve access between the city and the beach.
The remainder of the 'Swansea Central' development will include new homes, offices, retail and leisure space, combining to create a destination for business and leisure.
Swansea Central Phase One is part-funded by The Swansea City Deal, a £1.3bn investment secured for major transformation projects in the Swansea Bay region. The new bridge is part funded by the Welsh Government Active Travel Fund.
RivingtonHark
Rivington Land and Hark Group merged in 2019 to form RivingtonHark, which delivers rejuvenation of UK town and city centres through specialist development, asset management and investment capabilities, on projects with which currently total in excess of £700 million. Working alongside local authorities, pension funds and private equity investors, RivingtonHark creates vibrant and sustainable places where people want to work, live and play.
Current major projects include Swansea, Liverpool, Chester, Norwich, Newcastle, Lincoln and Bury, all of which involve the repurposing and repositioning of retail to incorporate a wide range of new uses, including a new arena and conference centre (Swansea), residential accommodation, offices, retail, public realm and leisure uses.
Swansea Bay City Deal
The Swansea Bay City Deal is a £1.3 billion investment that will part-fund a number of transformational projects across the Swansea Bay City Region, which is made up of Swansea, Carmarthenshire, Neath Port Talbot and Pembrokeshire.
The City Deal is being led by the four regional local authorities in partnership with the University of Wales Trinity Saint David, Swansea University. Swansea Bay University Health Board and Hywel Dda University Health Board.
Projected to be worth £1.8 billion and over 9,000 jobs to the region in coming years – the City Deal is being funded by the UK Government, the Welsh Government, the public sector and the private sector.
Cairn Group
Cairn Group is one of the UK's premium hotel and bar operators. Today the Group owns and operates a portfolio of hugely successful businesses, including 32 hotels and more than 30 bars and restaurants across the UK from its headquarters in Newcastle upon Tyne.
Marc Rees
Marc Rees is a Wales-based interdisciplinary artist/curator/director with an established track record of creating groundbreaking, provocative and risk-taking site-sensitive theatre projects around the globe. For over a decade he was a member of the pioneering site specific Welsh theatre company Brith Gof and performed in their seminal production Gododdin which subsequently influenced his own practice hugely. He is now recognised as a formidable force in place-based theatre/ installation making and producing, He often describes his role as an archaeologist—exhuming a site's multilayered history and unearthing fossil fragments of fact, or fiction. Examining these findings in detail he transforms them in collaboration with artists, performers and communities to deduce, interpret and re-imagine. The result becomes a new, composite portrait of a place, its people and its stories, to be encountered by an audience as an immersive, stimulating and unique experience.
In 2012 his wildly ambitious project Adain Avion was selected as Wales' flagship project for the London 2012 Cultural Olympiad and London Festival 2012. It took the form of a DC9 Aeroplane transformed into a mobile arts space, social sculpture and travelling time capsule that migrated around Wales. Over 2,000 participants, 50 artists and 65 community groups were involved in the project, 150 events in total with an overall audience of 48.000. September 2015 he founded and curated LLAWN (Llandudno Arts Weekend #1,#2,#3), an annual festival that celebrates the North Wales seaside town's Victorian heritage with a contemporary twist, in total the festivals drew an audience of 40.000. October 2017 he conceived and directed P.A.R.A.D.E. in collaboration with National Dance Company Wales and BBC NOW performed at the WMC, Cardiff and PONTIO, Bangor and broadcast on BBC4 as part of the R17 season. In September 2018, he was commissioned by 14-18 NOW to create a large scale immersive requiem called Now The Hero \ Nawr Yr Arwr. Together with the associated mini festival Now For More it involved 228 artists, 137 community performers, over 300 volunteers, 25 delivery partners and drew 18,000 visitors.
He is an honorary Professor of Practice at the University of Wales Trinity St David, National Theatre Wales' Creative Associate and the inaugural mentor for the MA Site-Specific Theatre Practice at Mountview, London in partnership with Shoreditch Town Hall, validated by the University of East Anglia.
ACME
ACME is based in London, Berlin and Dublin. Projects extend across scales and disciplines, from contemporary architecture and urban planning to interior design and product design for private, corporate and public clients. Since its founding in 2007, ACME has worked on over 220 projects in 25 countries, across a wide range of functions – from palaces to parks, offices to museums, bridges to shopping centres, housing to sports facilities, car parks to power stations.
Recently completed architectural projects include the new arcades at Victoria Gate in Leeds, Watermark Southampton, the new Eastland Library in Melbourne, the Robina Market in Queensland and Bumpers Oast in Kent. ACME is currently developing Swansea Arena, the headquarters for the German bank SAB in Leipzig, a footbridge in Berlin, the Canopy by Hilton Hotel in the City of London and Folkestone Harbour.
The practice has won a number of international awards and competitions. Recent awards include RIBA National Awards, the MIPIM World's Best Shopping Centre Award and the RIBA Yorkshire 2017 Project of the Year Award for Victoria Gate, the ICSC Best of the Best Award and the 2010 Manser Medal for the best house of the year for Hunsett Mill in Norfolk. http://www.acme.ac/