Parc Felindre, at SA5 7LU, offers a new 'happy' for discerning businesses. Discover the new happy and locate somewhere exceptional.
Happy New Business Development

Parc Felindre offers prime business development land in the surging Swansea Bay City Region. This is one of the biggest business sites in South Wales: 16 hectares of employment land, quality landscaping, plus immediate availability. Parc Felindre provides occupiers with fully serviced development plots, opportunities for bespoke design and flexible construction.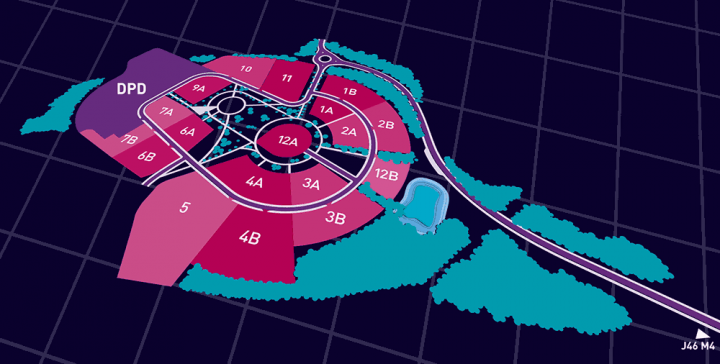 Happy New Location
DPD has an extensive UK network to fulfil its time critical delivery service throughout the UK, Europe and the rest of the world. DPD has invested in a state of the art, fully automated distribution centre under construction on Parc Felindre.
This significant nine acre site procurement, demonstrates Parc Felindre's excellent location, transport links and flexible service provision for business leaders like DPD.
Louise Ferguson, General Manager, Property for DPD said,
"Parc Felindre is a great location for us and a key part of DPD's ongoing investment programme to expand network capacity to keep up with demand for our services and improve efficiency… to ensure we continue to maintain the high level of service our customers in the area have come to expect."
Happy New Neighbours
Some of the top UK companies1 are already based in the region such as: Admiral Insurance, Amazon, BT, DMWSL 660 independent media producer, DVLA, NSJL Pharmaceuticals, Sinclair Motor Holdings, HSBC, OSTC Wales largest derivatives trading house outside London, Tata Steel, Tui, Virgin Atlantic, Wolfestone have all made the Swansea region their business base and are happy to be there.

They illustrate the diverse range of high end business genres drawn to the neighbouring region, such as: agriculture, civil engineering and construction, computer sciences, derivatives, digital technology, electronics, financial and professional services, healthcare, manufacturing, media, metal and steel processing, oil and gas and fuels, property development, retail, transport, sport. These endorse Parc Felindre's future as a live / work destination of regional and national importance.
Happy New Connections
Parc Felindre is located to enjoy easy connections by road or rail to Swansea –city centre just 5 miles, M4 corridor– immediate access via junction 46, Bristol – 1.5 hours, Birmingham – 2.75 hours, London – 3 hours 40, Manchester – 4.5 hours.3
Technical expertise is widely available through business consultants in the area as well as the universities.
Support is offered to business at Parc Felindre through various business groups, and development opportunities are encouraged through Welsh Government4, Swansea Council2, Business Wales4, Jobs Growth Wales5, Tourism Investment Support Scheme5, Business Wales events4, South West Wales Chamber of Commerce6, Swansea Bay Business Club10, Swansea University Business Development Team7.
Swansea University7 and University of Wales Trinity St David8 collaborate with business to offer cutting edge research graduates, staff training or facilities at one of the UK's fastest growing digital hotspots9.
All this opportunity is delivered at one of the most cost effective regions in the UK. Quality and value. Happy New 2021 at Parc Felindre!
Sources
1 walesonline.co.uk
2 swansea.gov.uk
3 Swansea Business Guide 2021
4 businesswales.gov.wales
5 gov.wales
6 chamberswales.com
7 www.swansea.ac.uk
8 www.uwtsd.ac.uk
9 Hayes Talent Solutions Report 2018
10 Swanseabaybusinessclub.com