Swansea Bay City Region accounts for 'nearly a quarter of Wales' 50 fastest growing firms. So attests the latest results from an economic development survey, conducted by Media Wales Business 1.
This accolade covers the fifty fastest growing indigenous firms from 2017 - 2019 in Wales. Their combined turnover climbed from £35.1m to £60.1m, representing an annual growth rate of 138% and the creation of 238 new jobs over the period.
The quality of the environment of Swansea Bay City Region and adjacent Parc Felindre endorses this encouraging growth. The quality of our work environment supports and sustains the quality of our work. Living and working are now are becoming increasingly interchangeable values and it is recognised that a good work-life balance is essential for a healthy happy work force, which, in turn, creates a healthy bottom line 2.
Business is learning that "work related stress already costs Britain 10.4 million working days per year. To protect mental health against the potentially detrimental effects of work related stress is to ensure you have a healthy work-life balance"3. This is recognised by business as well as associations such as the Mental Health Foundation concerned with mental well being.
Parc Felindre's location and the site potential means employers provide an environment for a healthy, happy, proficient workforce. Parc Felindre ticks all the boxes for an excellent location for business, well being for the workforce and thus recognition as a good employer. Protecting the mental health of the workforce is not just good employment practice it results in reliable, more efficient production because less days are lost and a healthy work-life balance shows in the bottom line.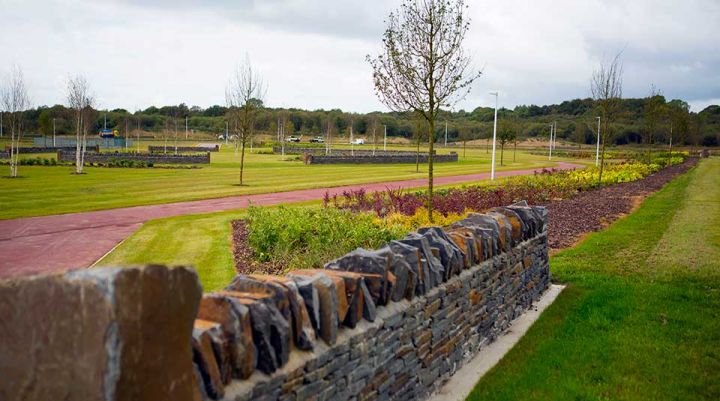 A positive work-life balance provides the following advantages to benefit your business with 2:
lower levels of absence, sickness and stress
increased competitiveness and productivity
boost in staff morale
improved customer service
more effective flexibility
meeting of seasonal peaks and troughs in your business
more committed and positive attitude in your staff
reduce staff turnover and minimised recruitment costs
business recognition for attracting top talent.
Parc Felindre, in addition to offering quality business land available immediately, is 4 :
easy to access
surrounded by an Area of Outstanding Natural Beauty
on site landscaping5
adjacent to five mile stretch of coastline and Rhossili Bay the best beach in Wales
Mumbles Swansea listed as the best place to live in Wales 6
adjacent range of housing5
excellent local education on all levels5
vibrant city centre and the top place in the UK for being friendly and welcoming.7
In conclusion Parc Felindre ticks all the work-life balance boxes for incoming business, staff and their families.
Sources
1 Business Live (businesslive.co.uk)
2 NiBusiness Info (nibusinessinfo.co.uk)
3 Mental Health Foundation (mentalhealth.org.uk)
4 Swansea Business Guide 2021
5 Parc Felindre (parcfelindre.co.uk)
6 Sunday Times
7 Provident 2018 Survey